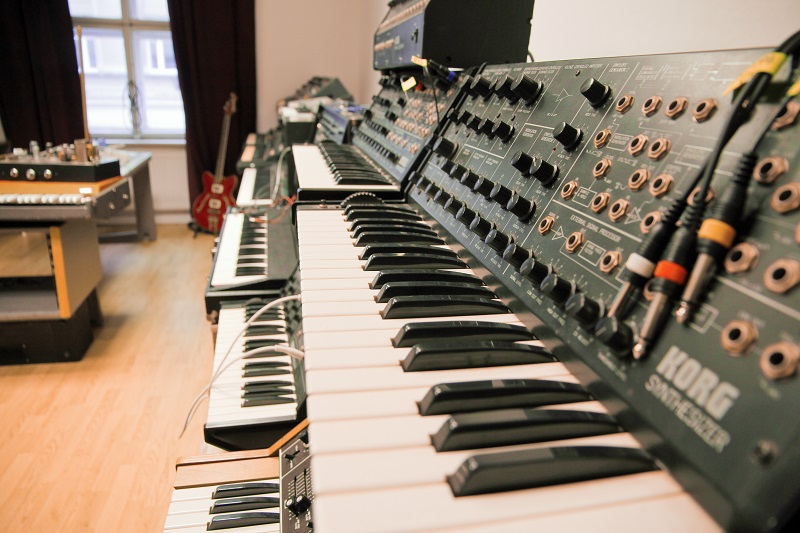 Courses and education at Faust studios
Faust studio offers various short and long term courses in recording, playing and music making led by experienced sound-engineers, producers and teachers. The courses take place in the Green Studio, Blue studio, our lecture room, and Faust synth lab.
For adults, courses (in Czech or English) are co-organized by Reskata z.s. They include lessons and practice for teachers from ZUŠ (Basic Music Schools) and other interested individuals in ICT technologies: especially recording in ProTools or Logic (or Ableton), composing of music in Logic, making music arrangements. This helps the teachers of ZUŠ give feedback to their students (they can record their students in class, or during band/orchestra concert or practice). They can also make compositions and arrangements in computers, print the scores (from Logic) and help the students prepare for school concerts. The courses include a theoretical part and practice in small groups (up to 8 people) during (mainly) weekend workshops (6-8 hour long).
Our producers/mentors offer also courses of electronic music making, use of synths, making of beats, practice of analogue, tape, and digital recording for groups or individuals. These are led by Nicholas Coolidge, Nick Fox or Blanka Maderová. We also cooperate with the renowned producer Sylvia Massy (Red Hot Chilli Peppers, Johnny Cash, System of a Down) who teaches our students via Skype consultations or directly in our studio.
As for children and teens, they can learn to play the guitar, drums, make beats, sing or play the ukulele in our Playheart school. We cooperate with Iva Bittova and other extraordinary mentors (video). The aim of the school is to teach the children to master the instrument during individual lessons and learn to play with others during a band practice once a month. When playing together, children and their teachers get into the so-called "primary consciousness" when they live fully in the present, share their feelings and ideas with others without judging, while cultivating empathy and team spirit.
We also organize courses for several Czech and foreign universities. These include the doctoral programme of recording and working with analogue instruments (Tonnmeister classes in Prague organized by NYU Steinhardt), workshops about Czech music (Slavic Studies, Harvard University Programme in Prague), East and Central European Studies programme at Charles University (FFUK); Intercultural Studies programme at Charles University (FSV); NC State University European Center in Prague, and others.
Contact: Blanka Maderová, PhD. blankasur@gmail.com +420 608174134